Chainring Buyers Guide
Author: Ray Date Posted:7 November 2016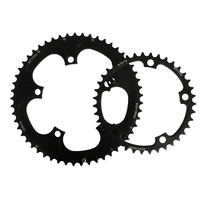 Chainring Buyers Guide.
Chainrings come in many different bolt hole spacings known as BCD or PCD, they also come in different teeth thicknesses to suit the various chains on the market.
Some chainrings are designed to suit shifting applications, others are for single speed applications only.
If you are unsure what BCD your crankset is, please follow the below link to the Sheldon Brown website. It is very old school but contains lots of useful information.
http://www.sheldonbrown.com/cribsheet-bcd.html
Chainring Teeth Width: Most of the single speed chainrings will be made to suit a wide 1/8" chain but some are also available to suit a 3/32" narrow chain, 7/8/9/10 speed chains will all run on 3/32" chainrings. Narrow chains will not run on 1/8" chainrings.
Chainring Style: Single speed chainrings cannot be used in shifting applications, however in some instances they can be used as the low gear.
Wide/Narrow chainrings help prevent chain drop and can only ever be used for non shifting applications such as on the front of a 1 x 9, 1 x 10 or 1 x 11 set up.